Band Dinner Concert: generous donations for silent auction/live auction items! Ukulele & 4 free lessons from The Music Scene, Ultimate Car Car Kit from Auto Zone, Jimmy John's, Walter's Flowers, goodies from Bullseye and the Prairie House, and RIB-EYE STEAKS from Walnut Valley!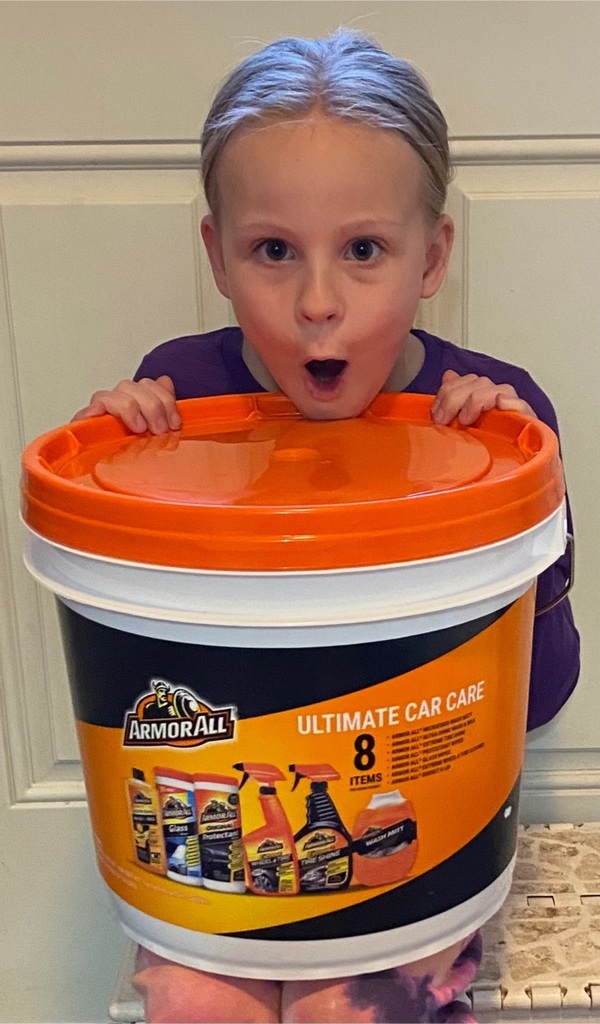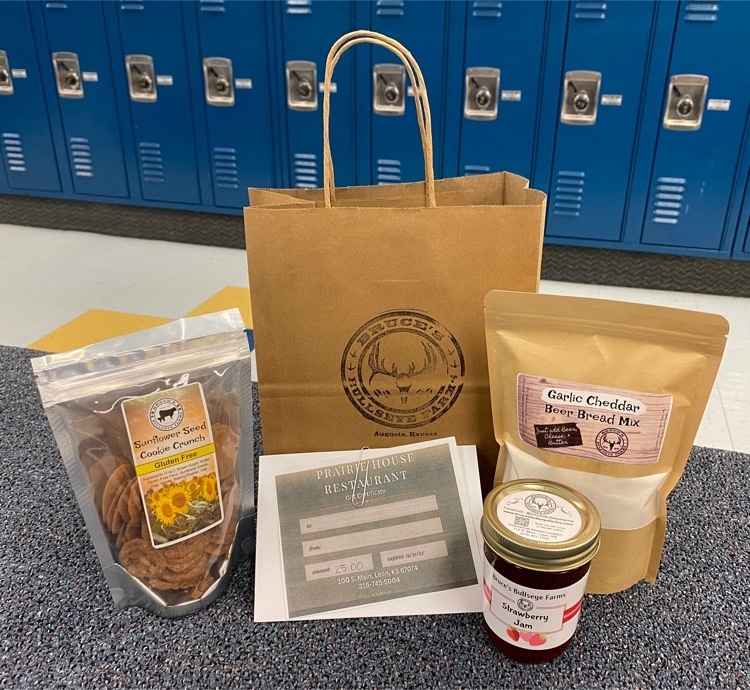 Band Dinner Concert is TOMORROW! Food, Music, and also put your bid in on a variety of silent and live auction items, including this basket of products from the Bluestem Mercantile! Thank you Bluestem Mercantile and to all our local businesses that donated items for our action!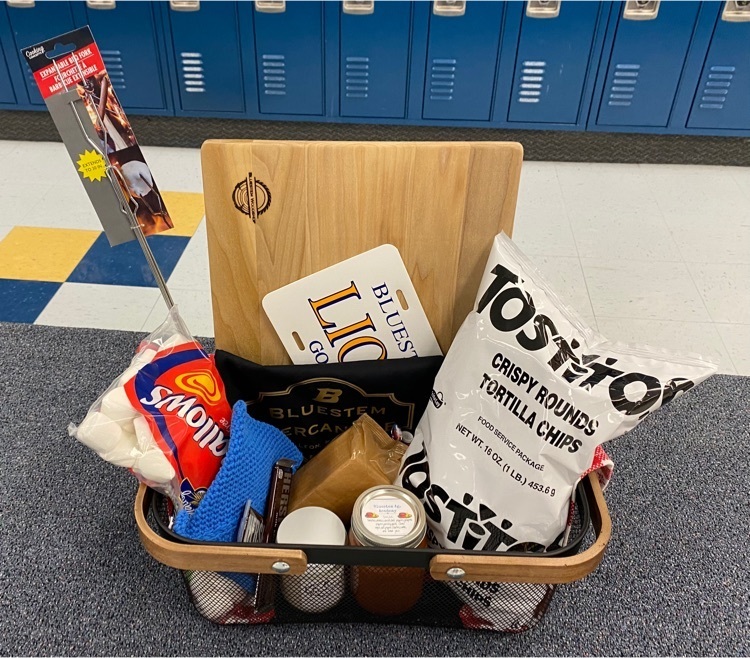 THURSDAY! THURSDAY! THURSDAY! 7/8th Grade Band and High School Band Dinner Concert! Location: High School Gym, Doors open at 6:00, food 6:30, music at 7:00 pm! 3/9/2023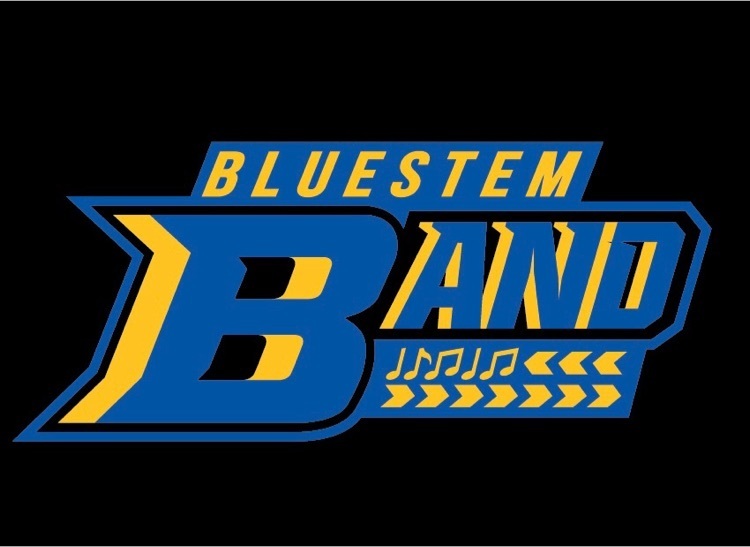 Bluestem Elementary Yearbooks are on sale now! Online sales only. inter-state.com/order then enter code 72656F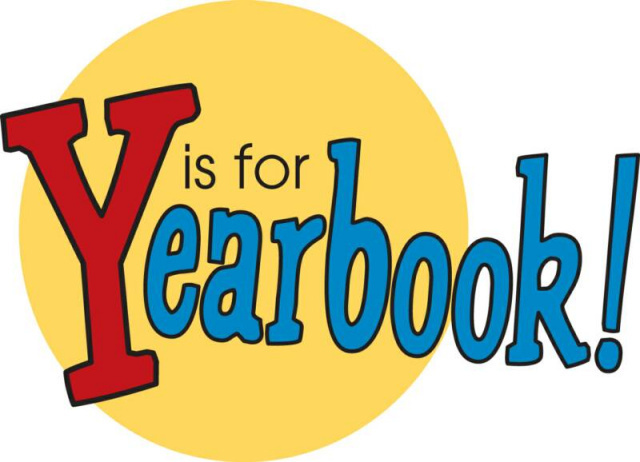 Middle school and High school cheer tryouts are around the corner! Details for both are down below!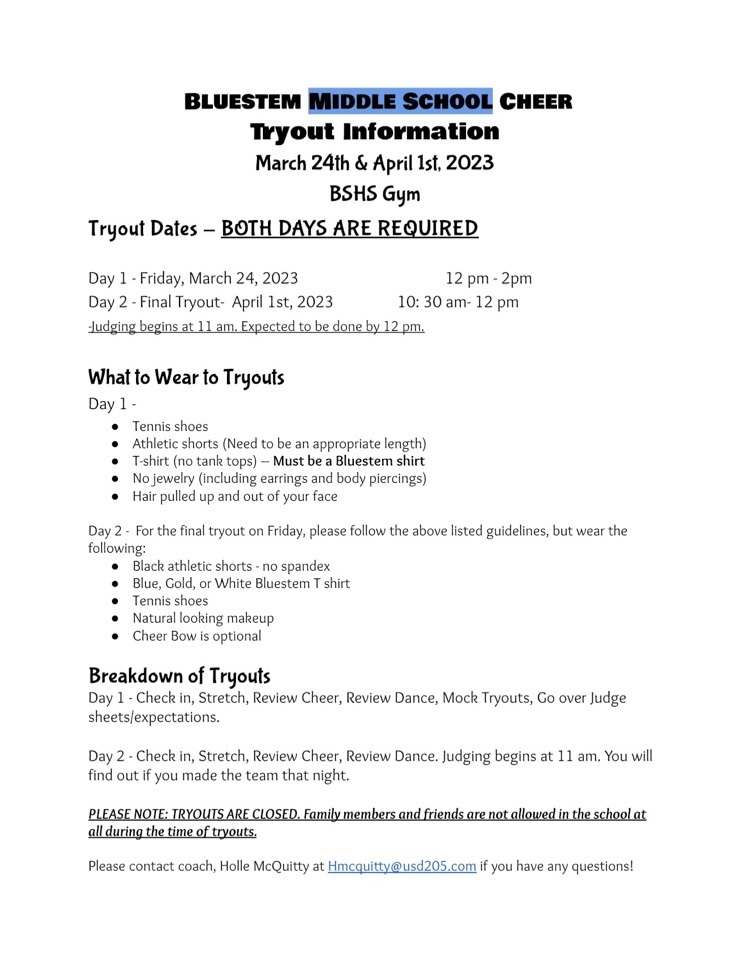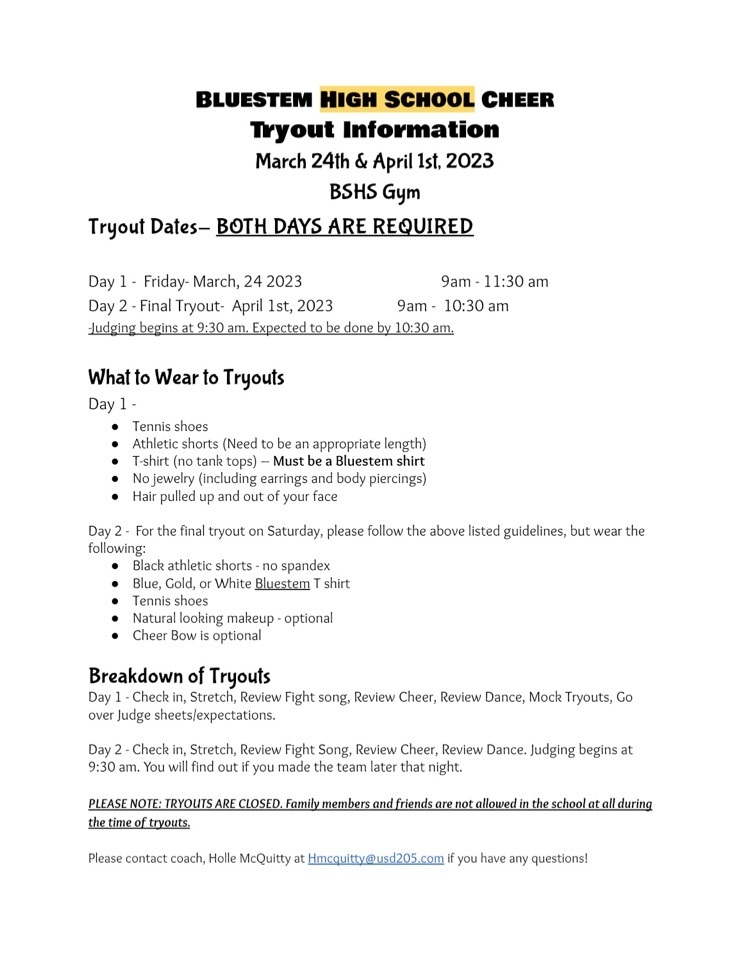 Spring pictures for the elementary school are on Wednesday, March 22. Everyone will have their picture taken and proofs will be sent home to review. Class pictures will be taken that day and. money for class pictures is due at the camera. Checks payable to Inter-State Studio.

Here are the Lion Happenings for the week. Please check the website for the most up-to-date information.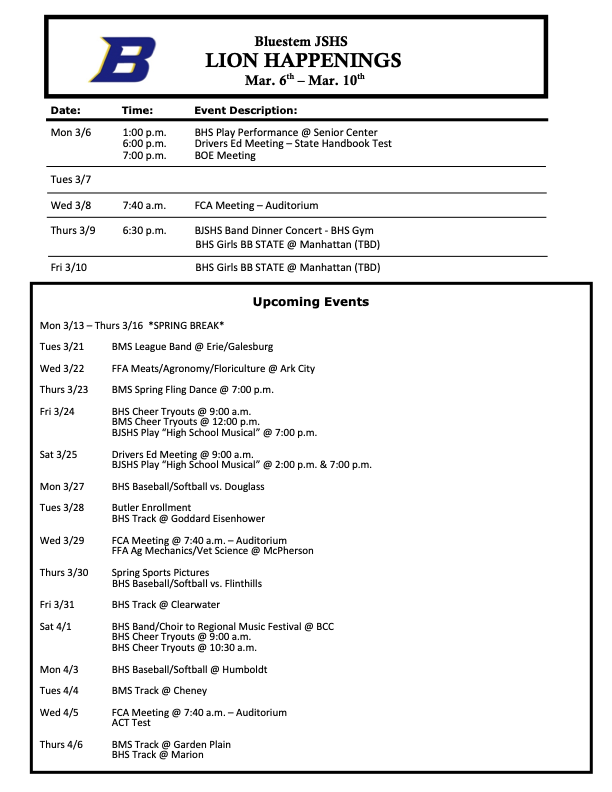 Lady Lions conclude their season with a 45-20 loss to Wichita Independent. #LIONPRIDE

Lady Lions are down 20-7 at halftime of the sub state finals against Wichita Independent.

We will be having a send off for the Lady Lions this afternoon. We will begin lining up at the high school parking lot around 4:00 PM. The bus will leave the parking lot and head to Main Street. Let's line the street and cheer on the Lady Lions.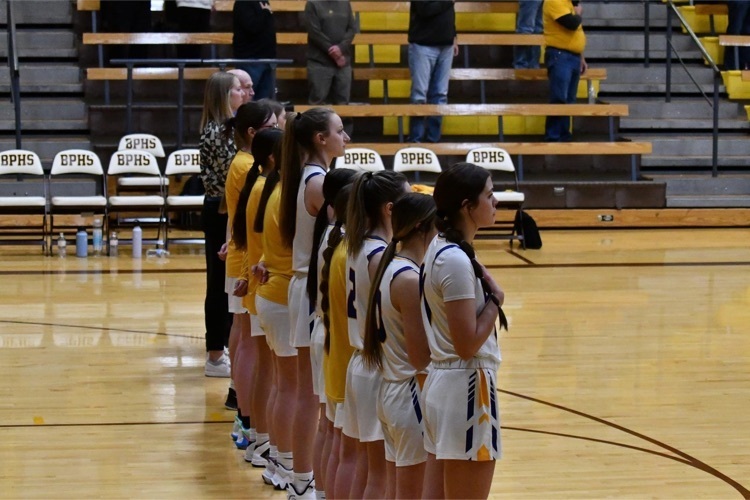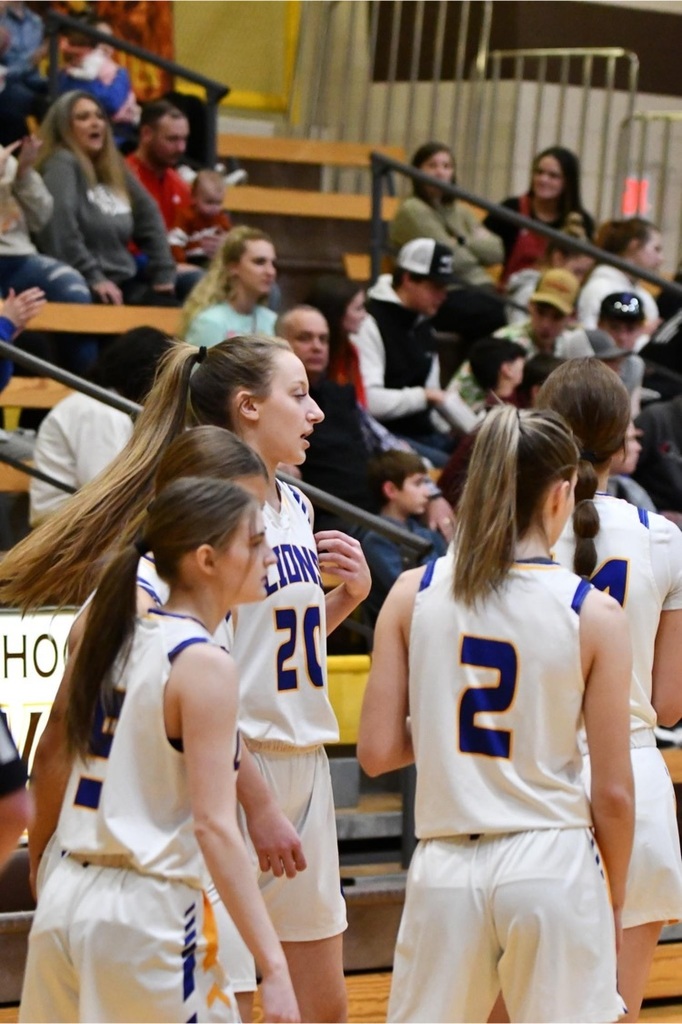 Lady Lions defeat West Elk with a score of 38-26. They will advance to the sub state finals tomorrow night at 7:00 pm.

Lady Lions are ahead at halftime 21-12.

The Lady Lions play tonight @ 6:00 PM in Belle Plaine. They will be playing West Elk. The winner will play in the Sub-State Championship on Saturday night. #LIONPRIDE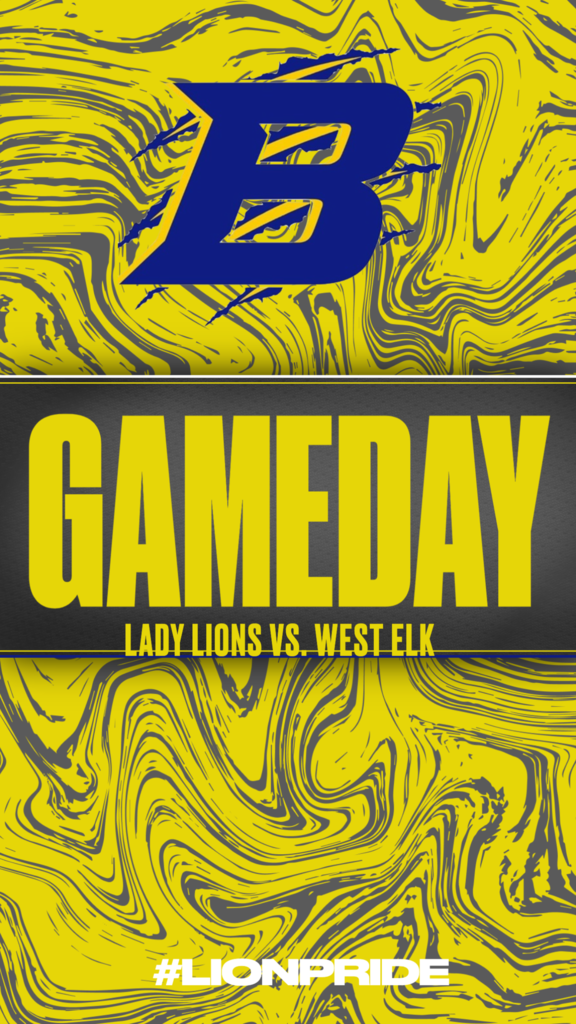 Track has trash bags for sale again this year. They are $10 a roll. 40-33 gallon bags per roll See any track athlete or contact Coach Burgardt. Orders are due by March 9th.

Don't forget! The Bluestem Band Dinner Concert is Thursday, March 9th! Band student ticket sales packets are due in class tomorrow! Talk with your band student about how you can get your ticket!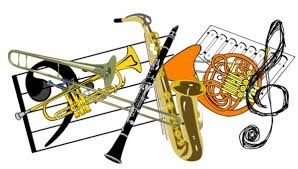 Lady Lions win 35-24.

Lady Lions are up at halftime 24-15.